Halloween costumes and decorations
Despite Halloween being over for another year, we've still got some ghoulish goodies for next year's celebrations. Don't miss out on our creepy costumes or devilish decorations or keep the pumpkin party going with our carving and recipes guide.
Makeup & hair
Discover our Halloween looks
Need some fantastic advice on how to add the finishing touches to really bring your costume to life (or the afterlife)? Discover our step by step guides to some of the best looks this Halloween as well as our full range of makeup.
Party prep
Trick-or-Treat
Pick up all your Halloween essentials for chilling at home, enjoying fancy dress parties or trick and treating your neighbours.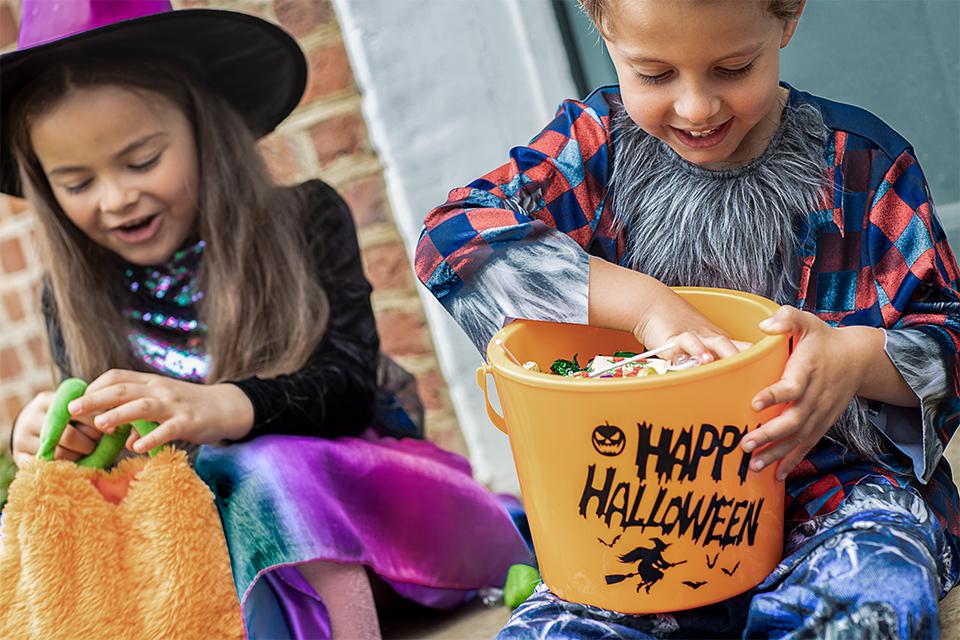 Buckets & bags
Every werewolf, pirate or zombie needs their goodie bag. Not only does it complete any costume, they're big enough to squeeze in all those yummy treats!
Fancy dress
Look wickedly good with these kids, adults or family costumes. Choose between superheroes, skeletons, monsters and more to bring out your spooky side.
Why buy at Argos?
Halloween costumes for kids
We've got thrilling costumes for everyone; from adorably spooky toddler Halloween costumes to fang-tastic kids Halloween costumes including everyone's favourites like Harry potter, Star Wars and even a marvellously evil Maleficent costume. Why not add some good old face paints to the mix to really add to the fear factor of your little one's look and bring their costume to life? Or if your little pumpkin is not into the fright-fest and prefers sugar, spice and everything nice, we've got the sweetest unicorn and rainbow wizardess costumes to add a bit of colour to glooms day. And our Paw Patrol and GhostBusters' costumes, are a perfect fit for the little heroes amongst us to save the doomed.
Halloween outfits for big kids
Halloween isn't just for kids, it's a time for everyone to enjoy, that's why we've put together fun party ideas and costumes for adults to get their freak on (we're talking about dancing, thank you very much) with terrifying coordinating couples Halloween costumes, perfect if you're going as a pair or browse through our chillingly haunting costumes for those flying solo. We've got it all!

Halloween decoration ideas
Whether you're a DIY wiz and want to make your own Halloween decorations or a last minute "I'll grab one of those" type of party planner, we've got great ghostly Halloween party decor ideas and Halloween props like our realistically gross spider web to put the finishing touches to your very own monster ball.
A bit of Halloween history
So how did we come to celebrate this spooky holiday and why is it called Halloween you ask? Well, it all began a long time ago by the ancient Celtic religion as the festival of Samhain celebrated in Britain where the Celts would light bonfires, wear costumes and hold big parties to scare off any ghosts and spirits, sound familiar? It wasn't until the 8th century when Pope Gregory III declared a 3-day observance dedicated to remembering the dead; landing on November 1st as All Saints' Day. Making the night before All Hallows Eve (Hallows means saints) and this is how we came to call October 31 Halloween!
Halloween traditions
Many of the Celts Samhain festival traditions were adopted by the All Hallows Eve way of celebrating which has been passed down to today. The lighting of bonfires and dressing up in costumes can all be seen today, except in the 8th century they called it 'guising' and 'souling'. Guising basically means wearing a disguise AKA costume and knocking door-to-door for apples and nuts and Souling is when the traditional soul cake, a cross between a biscuit and fruit scone would be eaten and given out to people who knocked on doors to sing and pray (like Halloween carol singers if you like). The only difference is today we call it trick-or-treating and prefer chocolates and sweets instead of fruit and nuts.
So whatever Halloween tradition you're going to partake in, let us help you get it right. Whether you're planning on staying in and watching a horror film, putting on a killer Halloween party or putting on a costume and trick-or-treating the night away, we've got everything you need right here in our frightfully fantastic Halloween range to make sure you have the perfect Halloween!