Win the ultimate family 2-night break with Zog at Warwick Castle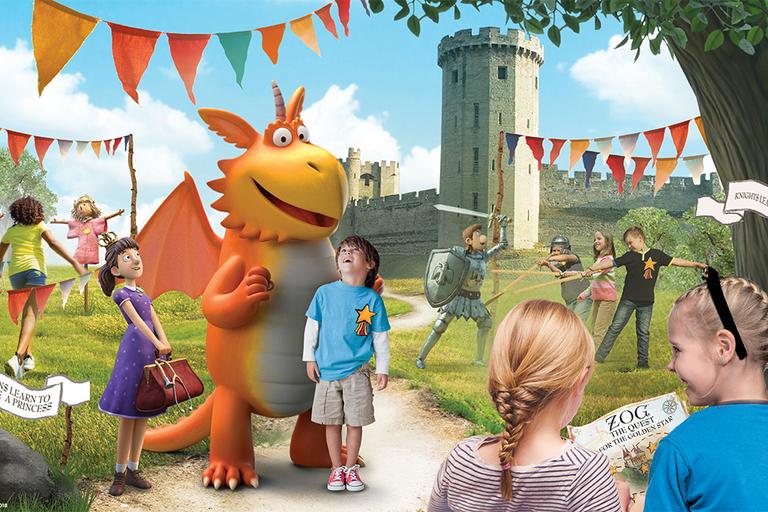 Enter for a chance to win a family 2-night stay in the grounds of the castle with 2 days of Zog fun!
Main prize: A family 2-night break at Warwick Castle including breakfast and one goody bag from Magic Light Pictures.
Closing date: 2 March 2021

Join the Quest for the Golden Star in the brand new Zog activity trail. Learn to fly, roar, capture a princess and even fight a real-life Knight! Explore the trail around the castle, where the much-loved book will be brought to life, meeting Sir Gadabout, Princess Pearl and a special meet and greet with the keenest Dragon of them all…Zog. You'll even earn your own golden star reward when you complete all the activities.
After a day of fun retire back to the Knight's Village where you'll stay in a medieval themed lodge and be entertained by our resident Knights.
In the morning you'll have breakfast with Zog in the castle in a VIP experience that money can't buy!
Valid for redemption at Warwick Castle until 31/10/2021, exclusions apply.
Prize is for one family of up to 5 people staying in a Woodland Lodge for 2 consecutive nights and 2 days of castle tickets. One Breakfast in the Castle with Zog is included for the prize winner and their guests. Tickets to the castle dungeon (suitable for age 10+) are not included.
Prize is subject to availability, normal age restrictions and any other relevant standard terms including Warwick Castle's general admission terms.
Warwick Castle will support transport arrangements up to the value of £200. This must be paid upfront by the winner and invoiced afterwards for reimbursement of costs.
Terms & Conditions
1. The prize draw is open to UK residents (excluding Northern Ireland) only. Prize draw excludes those individuals professionally involved in the promotion. Entrants under the age of 18 must receive parent/guardian permission to enter.
2. The promotion is only available to enter online at www.argos.co.uk and www.tu.co.uk. It is not available to enter in-store but will be advertised as enter online.
3. No purchase is necessary.
4. The Promotional Period is 9 February 2021 to 2 March 2021 inclusive.
5. There is one prize to be won.
a) The prize is for a family 2-night break at Warwick Castle including breakfast and one goody bag from Magic Light Pictures.
b) Valid for redemption at Warwick Castle until 31/10/2021, exclusions apply.
c) Prize is for one family of up to 5 people staying in a Woodland Lodge for 2 consecutive nights and 2 days of castle tickets. One breakfast in the Castle with Zog is included for the prize winner and their guests. Tickets to the castle dungeon (suitable for age 10+) are not included.
d) Prize is subject to availability, normal age restrictions and any other relevant standard terms including Warwick Castle's general admission terms.
e) Warwick Castle will support transport arrangements up to the value of £200. This must be paid upfront by the winner and invoiced afterwards for reimbursement of costs. The winner should satisfy themselves that adequate insurance is in place before travel. All other expenses, unless expressly stated above, are excluded.
f) Prize provided by: Warwick Castle, Castle Lane, Warwick, CV34 4QU. Unless otherwise specified, no entries should be sent to this address.
6. To enter, visit www.argos.co.uk or www.tu.co.uk during the Promotional Period and click through the banners on the homepage, where the prize draw link will be available. Each entry will require the provision of personal information.
7. Each entrant may enter the promotion only once during the Promotional Period. They may enter at either www.argos.co.uk or www.tu.co.uk but not both. The Promotional Period ends at 23:59 on 2 March 2021. Entries submitted after the deadline will be not be counted. Duplicate entries will be disqualified.
8. Entrants at www.argos.co.uk and www.tu.co.uk agree their entries and personal data will be amalgamated for the purposes of determining a winner. The amalgamated data will be held by Sainsbury's Argos and held for 30 days until a winner has been selected and contacted.
9. Personal Data will be transferred to 3rd parties Magic Light Pictures and Warwick Castle for arrangement of prize, but will be used strictly in accordance with EU General Data Protection Regulation (GDPR) and for the purposes of the promotion and prize fulfilment only. It will not be used for any other purpose.
10. The winner will be chosen at random from all valid entries received by the closing date. Proof of electronic submission is not proof of receipt.
11. The draw will take place within seven (7) days of the end of the Promotional Period and the winner will be notified using the personal details provided at entry. The winner must respond within 14 days of notification to claim their prize. Failure to respond will result in the prize being forfeited and an alternative winner chosen.
12. There is no cash or other alternative to the stated prize. If the winner is unable to accept the prize, it will be forfeited, and an alternative winner chosen.
13. The Promoter reserves the right to substitute a prize for an alternative of equal or greater value should the prize not be available for reasons outside their reasonable control. The Promoter reserves the right to alter, cancel or withdraw this promotion without notice in the event of technical or unforeseeable or force majeure events outside its control with no liability to any entrant.
14. The winner may be requested to participate in reasonable publicity relating to the prize draw which may include publicizing their name and photograph in any media.
15. Each entry into the prize draw signifies acceptance of these terms and conditions. The Promoter reserves the right to refuse entry or a prize to anyone in breach of these terms and conditions. The decision of the Promoter is final and no correspondence will be entered into.
16. The name and county of the winner will be available for a period of up to 4 weeks from the closing date. The winner may request this information is withheld by notifying the Promoter at the time of prize acceptance. Please write to Clothing Online Team, 1 Draken Drive, Coventry, CV7 9RD.
17. This promotion is governed by the law of England and Wales.
18. The Promoter is Argos Limited, 489-499 Avebury Boulevard, Milton Keynes, MK9 2NW.
19. For further queries on Warwick Castle terms please visit www.warwick-castle.com/security-privacy/terms-conditions/