Buy LEGO® products worth £20 or more for a chance to win LEGO® birthday prizes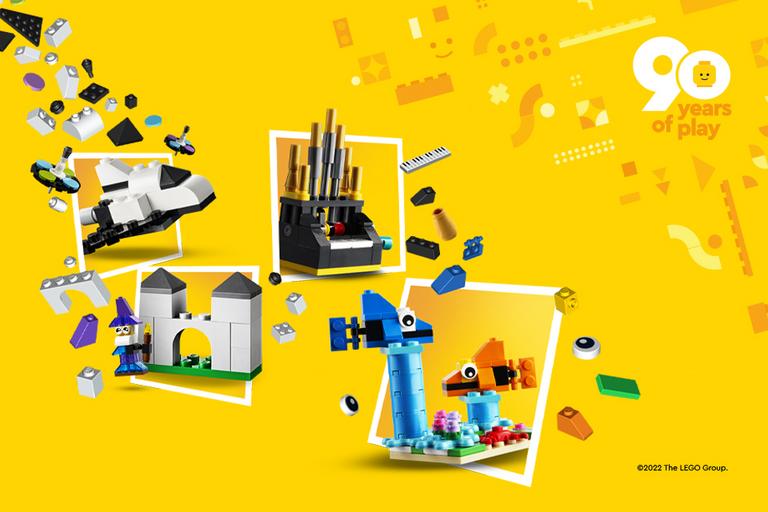 Buy LEGO® products worth £20 or more for a chance to win weekly LEGO® birthday prizes
Buy LEGO® products worth £20 or more for a chance to win weekly LEGO® birthday prizes
WIN
Weekly LEGO® Birthday Package
1x 11021 90 years of play
1x 41956 Ice Cream Picture Frame & Bracelet
1x 60342 - The Shark Attack Stunt Challenge
1x LEGO® 90th Tote
LEGO® Super Birthday Package
1x 90th Anniversary Hero SKUs (City Firestation, Friends Treehouse, Creator Tiger, Ninjago Dragon, Classic Brick Box)
1x Flower Bouquet
1x Drinking bottle
1x Laptop Case
Upload recipt for your chance to win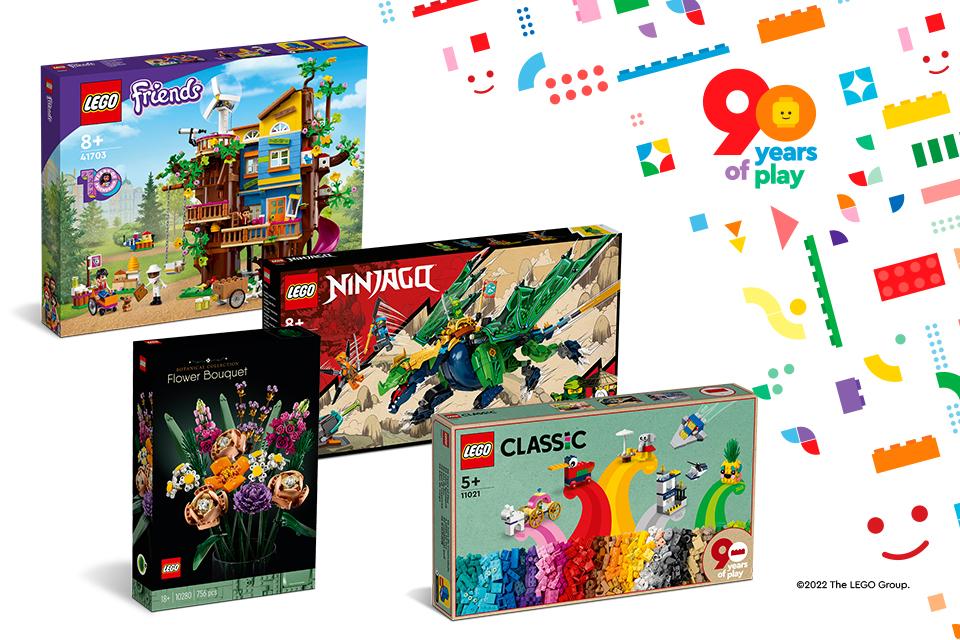 LEGO® Super Birthday Package Prize.
1x 90th Anniversary Hero SKUs (City Firestation, Friends Treehouse, Creator Tiger, Ninjago Dragon, Classic Brick Box)
1x Flower Bouquet
1x Drinking bottle
1x Laptop Case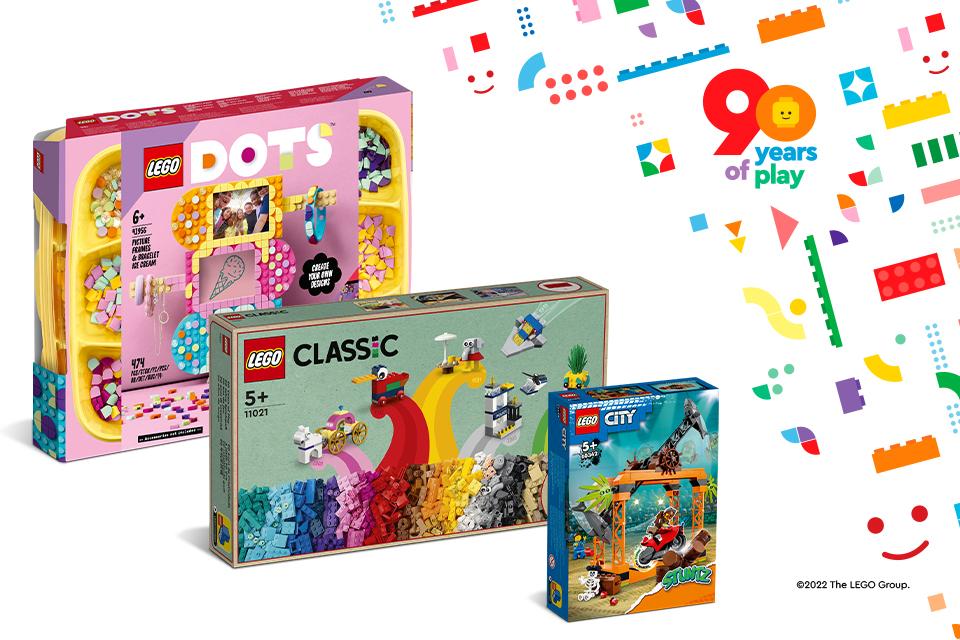 LEGO® Birthday Package Weekly Prize
1x 11021 90 years of play
1x 41956 Ice Cream Picture Frame & Bracelet
1x 60342 - The Shark Attack Stunt Challenge
1x LEGO® 90th Tote
Terms & conditions
These Terms and Conditions prevail in the event of any conflict or inconsistency with any other communications, including advertising or promotional materials for the LEGO® 90th Anniversary competition. Customers must spend a minimum of £20 on LEGO® official products from participating stores or online (cardholder's registered address must be in England, Scotland or Wales) and register their details to enter the weekly prize draw where 150 lucky winners win a LEGO® 90 years of play pack (15 weekly) and 5 lucky winners win the Grand prize, a LEGO® 90 years of play super pack. Entry instructions are deemed to form part of the Terms and Conditions and by participating, all entrants to the Promotion agree to be bound by these Terms and Conditions.
Promoter: LEGO® Company Limited, 33 Bath Road, Slough, Berks, SL1 3UF, United Kingdom
Administrator: TLC Marketing Worldwide UK, 54 Baker Street, London, W1U 7BU
Eligibility: The promotion is open to all residents of Great Britain (England, Wales and Scotland), aged 18 or over. Excluding employees of the Promoter and the Administrator and their respective affiliates or agents, the immediate families of such employees and any other person connected with this promotion

a. Current valid email address required.
b. Internet access and registration required.
c. Purchase necessary. Receipt or proof of purchase must be retained.
d. Max one purchase entry per purchase, person, email and household.

Promotional Period: 00:01 on 02 June 2022 to 23:59 on 10 August 2022. Any entries received outside the Promotional Period will not be accepted.

How to enter:
a.GB customers excluding NI must spend a minimum of £20 on official LEGO® products at stores or online retailers in England, Scotland or Wales (cardholder's registered address must be in England, Scotland or Wales) in one transaction and register their purchase online during the promotional period as stated.

b.Customers must visit www.90-years-of-LEGO-play.com, to complete the following registration information and create an account during the Promotional Period:
i. Title
ii. Full name
iii. Date of birth Full
iv. postal address
v. Valid email address
vi. GB customers (Including England, Wales and Scotland), must upload a clear image or scan of their purchase receipt/proof of purchase. The date of purchase, the store the product was purchased from, the price and product description/name must be clearly visible and identifiable. The date of purchase shown must be during the Promotional Period and prior to the date of entry.

c. Customers will receive a confirmation email once registered via the email address provided.

d. Customers will be automatically entered into a weekly prize draw for that week and the Grand prize draw at the end of the campaign, all prizes are allocated via a randomised computer process from all valid entries received.

e. Weekly prize draw – 15 weekly winners to win a LEGO® 90 years of play pack, consisting of; 1 x LEGO® Set 11021- '90 years of Play', 1 x 41956 Ice Cream Picture Frame & Bracelet, 1x 60342 - The Shark Attack Stunt Challenge, and 1 x LEGO® 90 YEARS OF PLAY branded tote bag. 15 winners per week. Weekly draws will include registrations from the Thursday at 00:01 and until the following Wednesday at 23:59. The draws will take place from all valid entries received on the following day, the Thursday and winners will be emailed within 2 working days.

Prize Draw 1 -Thursday 9 June
Prize Draw 2 -Thursday 16 June
Prize Draw 3 -Thursday 23 June
Prize Draw 4 - Thursday 30 June
Prize Draw 5 -Thursday 7 July
Prize Draw 6 -Thursday 14 June
Prize Draw 7 -Thursday 21 June
Prize Draw 8 -Thursday 28 June
Prize Draw 9 -Thursday 4 August
Prize Draw 10 -Thursday 11 August

f. Weekly construction challenge – In addition to the purchase route in clause 3.e), each week we will have a new themed Construction Challenge of the Week, published here. This will give customers the opportunity to gain an additional entry into the weekly prize draws. Customers are required to:
-Create the LEGO® construction challenge of the week as explained on www.90-years-of-LEGO-play.com/construction-challange. All challenges will involve the creation of a LEGO® set.
- Take a photo of the completed construction and upload it to www.90-years-of-LEGO-play.com/construction-challange before that week of entry's closing date on Wednesday at 23:59. Email address required when submitting photos, this must match the email address used to make their purchase entry. All photos will be accepted if clearly illustrating the use of that week's construction challenge elements. The Promoter reserves the right to reject any image that does not clearly include the use of any week's construction challenge elements. Unless requested via the customer service contact details, participants will not be informed if their entry is rejected.

Once registered, the customer will be able to take part in all of the following weeks' construction Challenges, without having to make any additional purchases. They will simply have to create and complete a new construction according to the theme of the week in progress and upload an image to www.90-years-of-LEGO-play.com/construction-challange and confirm the email address that matches the email address used to make their original registration. This will gain them a max of one (1) entry into that week's draw only. Winners will be contacted within 2 working days. Each submission of the construction challenge will also generate an additional entry into the Grand Prize Draw.

g. Grand Prize draw - All qualifying entries via the purchase registration and construction challenge will also constitute an entry into the Grand Prize draw once the campaign has ended, to win one of five (5) Grand Prizes. The grand prize is a LEGO® 90 years of play super pack, consisting of; 1 x 90th Anniversary Hero SKUs (City Firestation, Friends Treehouse, Creator Tiger, Ninjago Dragon, Classic Brick Box), 1x Flower Bouquet, 1x Drinking bottle, and 1x Laptop Case. The grand prize draw will take place on Thursday 11th August and the winner will be contacted within 2 working days.

h. Winners will receive an email to the email address provided at registration 2 working days after the prize draw takes place. Once a winner has confirmed their acceptance of the prize, their prize will be sent within 4 weeks to the address provided at registration.

i. The Grand prize winners will be selected at random from all the entries received during the promotional period. They will receive an email to the email address provided at registration within 2 working days of the draw date and once they have confirmed their acceptance of the prize, their prize will be sent within 4 weeks to the address provided at registration.

TLC Marketing and The LEGO® Group will automatically post all construction photos, uploaded by entrants, on the construction wall of the promotional site, for a period of approximately one week. The LEGO® Group may post the winning photos from the construction challenge onto social media. The photos will not include any personal details.
No cash or other alternative prizes will be provided in whole or in part, except that in the event of circumstances outside of its control, the Promoter reserves the right to substitute a similar prize of equal or greater value. The prizes cannot be used in conjunction with any other promotion.
The Promoter and the Administrator accepts no responsibility for any entries that are incomplete, illegible or fail to reach the Administrator for any reason and any such entries will not be accepted. Entrants who enter on someone else's behalf will be disqualified, at the Promoter's discretion.
If fulfilment or any element of this promotion is delayed or affected due to the continuing Covid-19 pandemic and resulting Government restrictions, any affected entrants will be contacted by the Promoter and kept updated of any unavoidable changes to the promotion or prizes.
Runs until 10.08.2022 inclusive.
The LEGO® Group reserves the right to cancel, suspend, amend or withdraw the offer at any point without prior notice.
The Promoter and the Administrator reserve the right to require entrants to provide further verification of their purchase, identity and eligibility (passport, driving licence or equivalent) including original documents which they must provide within 10 days from request. The Promoter reserves the right to refuse to award a reward or withdraw reward entitlement and/or refuse further participation in the promotion and disqualify the entrant where there are reasonable grounds to believe there has been a breach of these Terms and Conditions, the spirit of the promotion, any instructions forming part of this promotion's entry requirements or otherwise where an entrant has gained unfair advantage in entering or won using fraudulent means.
All entries must be made by the entrant themselves. Entries (bulk or otherwise) made from trade, consumer groups or third parties will not be accepted. Entries made by macros or other automated means (including systems which can be programmed to enter) and entries which do not satisfy the requirements of these Terms and Conditions in full will be disqualified and will not be counted. If it becomes apparent that an entrant is using a computer(s) to circumvent this condition by, for example, the use of 'script', 'brute force', masking their identity by manipulating IP addresses, using identities other than their own or any other automated means in order to increase the number of entries into the promotion, those entries will be disqualified and any prize awarded will be void. The Promoter and Administrator reserves the right to investigate and undertake all such action, as is reasonable, to protect itself against fraudulent or invalid entries. In addition, the Promoter and the Administrator reserves the right to reject those entries which it considers, in its absolute discretion, are fraudulent or invalid.
The Promoter will make available a list of winners' surnames and counties of residence to members of the public or regulators who request such details within 3 months of the closing date of the promotion. Entrants can object to disclosure, or request that disclosure be limited in scope by contacting lego90years-GB@tlcrewards.com. We may nevertheless disclose the information to the Advertising Standards Authority if required to do so.
It is the responsibility of the entrant to provide correct, up-to-date details when entering and when claiming their prize. The Promoter cannot be held responsible for winners failing to supply accurate information which affects fulfilment of their reward.
Any additional costs which may be incurred in this Promotion in the context of entry, such as internet costs and other additional services that go beyond those described services for prize fulfilment are not included in the prize and must be paid by entrants separately.
Your entry will be deemed invalid if (including but not limited to) you;
a) Are not an eligible entrant (as defined in clause 1 above);
b) Have failed in any way to otherwise comply with these Terms and Conditions and corresponding partner Terms and Conditions as determined by The Promoter or the Administrator in its sole discretion.
Insofar as permitted by law, neither the Promoter nor the Administrator, nor its associated companies, will be responsible or liable to compensate the entrant, or accept any liability, for any personal loss, expense or damage in connection with this promotion or accepting or using the prizes except for any liability which cannot be excluded by law (including personal injury, death and fraud) in which case that liability is limited to the minimum allowable by law. Neither can they guarantee the quality and/or availability of the services offered when using the prizes and cannot be held liable for any resulting personal loss or damage. Your statutory rights are unaffected.
In the event of circumstances outside the reasonable control of the Promoter, or otherwise where fraud, abuse, and/or an error affects or could affect the proper operation of this promotion or the awarding of prizes, and only where circumstances make this unavoidable, the Promoter reserves the right to cancel or amend the promotion or these Terms and Conditions, at any stage, but will always endeavour to minimise the effect to entrants in order to avoid undue disappointment.
The Promoter has no control over internet or communication networks and is not liable for any problems associated with them due to traffic congestion, technical malfunction or otherwise. The Promoter will not be held liable to any individual for any fraud committed by any third party nor for any event beyond its control including, but not limited to, user error and any network, computer, hardware or software failures of any kind which may restrict, delay or prevent an entrants participation in the promotion.
This promotion is administered by TLC UK Marketing Ltd. You can contact TLC here.
The Promoter's decision is final with regards to all promotional matters and no correspondence will be entered.
If any of these clauses should be determined to be illegal, invalid or otherwise unenforceable then it shall be severed and deleted from these Terms and Conditions and the remaining clauses shall survive and remain in full force and effect.
The Promoter will only use the personal details supplied for the administration of the promotion and for no other purpose, unless we have your consent. You acknowledge that the Promoter may pass such information to its third-party agency, solely for the purposes of administering the promotion, you can see TLC Marketing's privacy policy here. Your personal details will at all times be kept confidential and in accordance with current Data Protection legislation. Click here for the Promoter's Privacy Policy. You can request access to your personal data, or have any inaccuracies rectified, by sending an email to lets.talk@tlcmarketing.com. By entering the promotion, you agree to the use of your personal data as described here. Any data obtained will be deleted 3 months after the end date.
These Terms and Conditions and any question concerning the legal interpretation of these Terms and Conditions will be governed by the laws of England. Any disputes must be referred to the English and Welsh courts unless you live in another part of the UK, in which case your local courts will have jurisdiction.