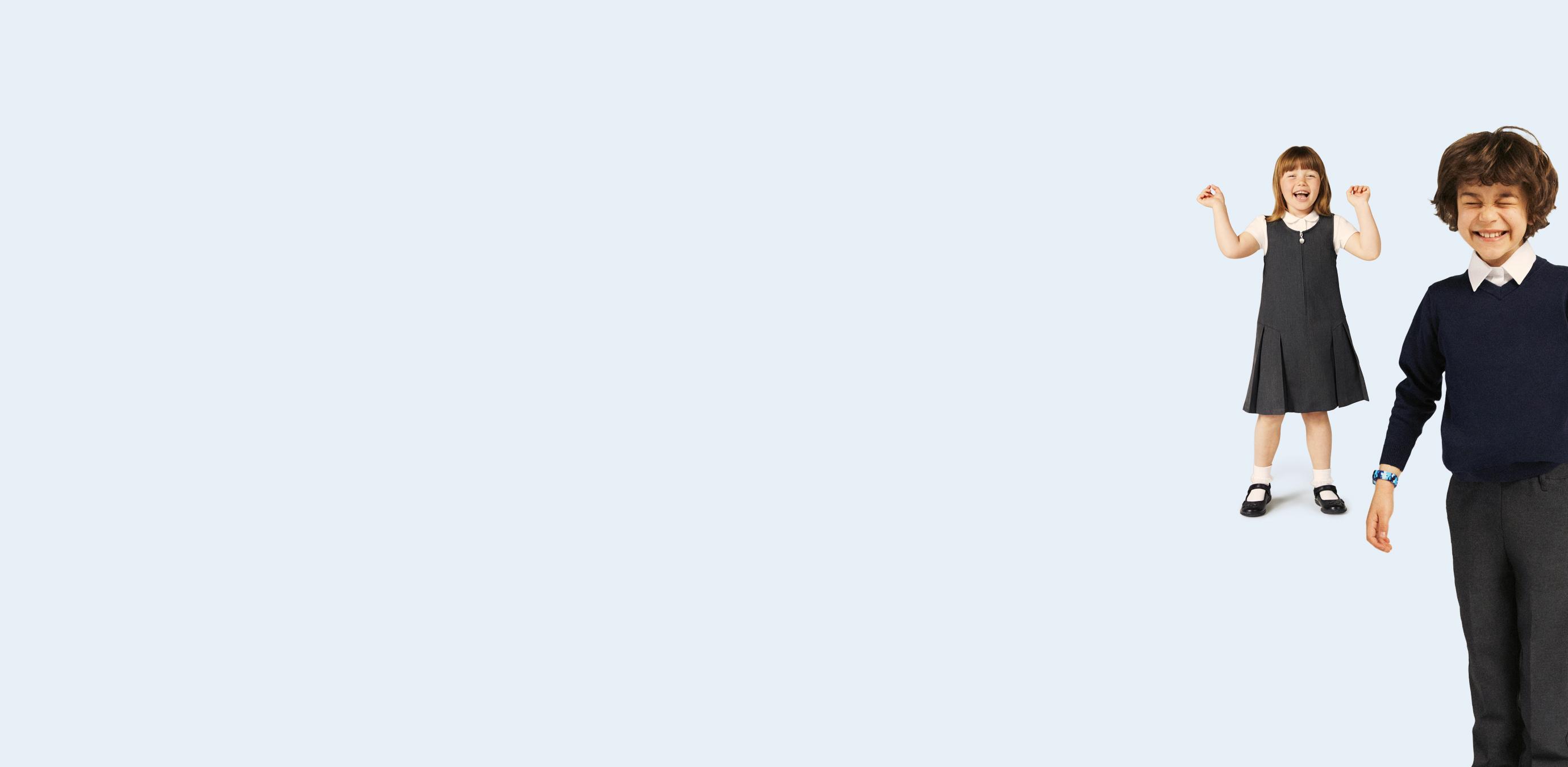 Back to school supplies
The savvy school shop. Awesome prices, awesome range.
Uniform from Tu
Girls uniform
From easy iron, perfectly pleated skirts and dresses, to rip resistant trousers and shirts. Our range of high quality and durable girls school uniform, shoes and PE kits has everything covered, from their head to their toes.
Boys uniform
Whether you're after trousers and shorts with reinforced knees, or easy care, cotton rich polo shirts and shirts. Our range of smart, wear-resistant boys school uniform, shoes and PE kits is designed to last all year round.
Stationery & calculators
Stationery
All the pencil case essentials you'll need to see you through the school year. With big brands like Hype, Skinnydip and Tinc, and favourites from movies including Harry Potter and Minions, bring on the school work!
Calculators
Ideal for everyday schoolwork, homework and exams, from Primary School to University. These scientific calculators are simple to use and just what's required for those standard sums and complex formulas.
Backpacks, bottles & lunch bags
Backpacks
No matter your style, our range of school backpacks has something to suit everyone. From stylish backpacks for film fanatics and brand buffs who love the latest trends, to large backpacks and sports bags for future athletes and study bugs, who need space for all their books!
Sports & PE bags
Kit yourself out with one of our sports or PE bags. They have plenty of space to store all the gear you'll need for lessons and training practices.
Lunch bag & bottle sets
Keep your lunch fresh with these lunch bag and bottle sets. With favourite characters and cool patterns to choose from, we've got styles to suit everyone.
Water bottles
Keep hydrated with these water bottles. From metal bottles with funky designs, to bottles to help you track you're drinking enough through the day.
Sports equipment
Sports equipment
Game. Set. Match. We've got sports equipment to suit all ages and passions, from budding basketball players to cracking cricketers. So whatever your sport, make sure you've got all the kit to set yourself up to win!
Technology
Laptops
Looking for the best laptops for school work? Then look no further! We've picked out a range of laptops to suit different budgets, that will help to get your child's school year off to a flying start.
Printers & printer paper
Explore our range versatile printers, ideal for printing your homework and other school projects. Keep your paper supplies topped up too, with our printer paper packs.
Why shop with Argos?
The new school year often calls for new school uniform and back to school essentials. That's why we've created the best back to school range that has everything you'll need to make sure your child gets the best possible start to their new school term. Whether they're making a big move or embracing small changes, we're here to provide you with school clothes, accessories and school equipment to make that transition as smooth as possible.
The back to school rush
As the summer holidays draw to a close and you find yourself caught up in the back to school rush once again, you can count on our back to school range to make sure your little genius is ready and equipped with everything they need to get back in to school mode.
Back to school essentials
Apart from smart school shoes and well-fitting school uniform being top priority back to school essentials; school bags are not far behind. That's why we've made sure to include a wide variety of styles, colours and designs to suit everyone's needs. Whether you have a strict black school bag policy or you're looking for a something that will reflect your kids' personality; you're sure to find a bag they'll feel proud to carry in our collection. Choose from spacious school backpacks and stylish school satchel bags and so much more. Whatever you're after, we've got it all. And when it comes to finding fun and secure ways to carry their school lunches, our awesome lunch boxes are just what you need.
Homework must haves
It's important to make sure that your child is just as prepared for home learning as they are for school. That's why we've put together the best homework must-haves to make sure your child has everything they need to learn and complete their homework to the best of their ability. Check out our fantastic tablets for kids to find fun and interactive ways for your child to learn and engage with their education. Why not set them up with their own desk or dedicated learning corner complete with a wireless mouse and wireless keyboard for maximum comfort and efficiency.
And if your star student has essays or presentations they need to store on external hard drives then why not pick up a handy USB they can easily and safely store their work on? Just remember to remind them to always back up their files!