Garden furniture
Unfortunately lots of these are sold out right now
We're working hard to get more in for you.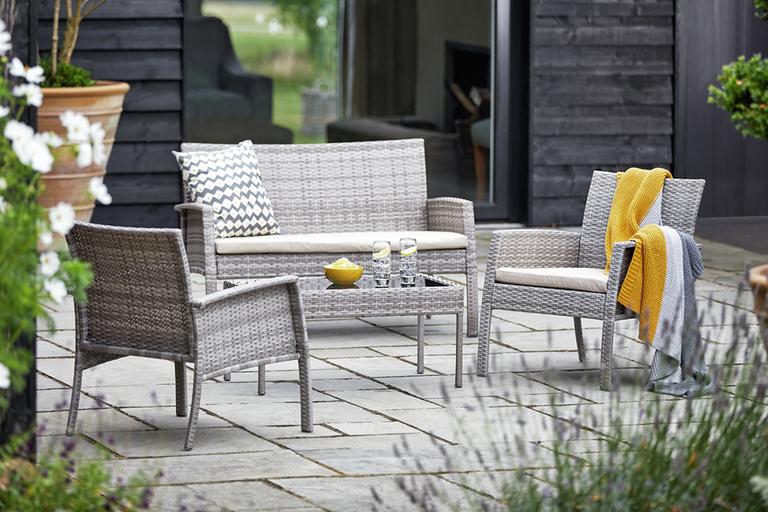 Essentials for garden gatherings
Doing some garden maintenance?
Need outdoor inspiration?
A garden is your very own slice of the great outdoors for you to put your own stamp onto. Just like the interior of your home, it's a space where you can get creative and create a place you love spending your time. To get the most out of your garden, some carefully chosen garden furniture is a must-have. No matter what you've got in mind, we have you covered - from patio sets to parasols and bases, gazebos right through to garden benches, you'll find it all right here in our comprehensive range. For a seriously stylish addition to your patio area, why not consider our garden corner sofas? Shop our range to find an array of beautiful designs; consider a wooden frame for classic rustic charm, or opt for grey rattan to achieve a contemporary look that's oh-so on-trend. Whichever you choose, these make the ideal place to sit and catch up with friends and family in comfort.
Rattan garden furniture
Rattan furniture is essential if you love to entertain guests or have a larger family. It's durable and hard wearing, which is perfect for getting through the British winter time. Rattan effect makes a great choice for larger pieces of furniture like corner sofas, and table legs. Some rattan sets are even made to fit under the table, so they can be put neatly away in the colder months. Rattan furniture sets will last for many summers to come.
Wooden garden furniture
Create a naturally beautiful outdoor space with wooden garden furniture. Outdoor wooden furniture is solid, built to last if cared for and weather resistant, which means it can be left out all year. Our outdoor wooden furniture is made from FSC certified wood and once treated will come up in a beautiful grain. From garden benches, garden tables and deck chairs, there is plenty of choice to compliment your garden. Create a permanent, outdoor reading nook with a wooden bench and a wooden gazebo. Pop an outdoor rug inside with a few outdoor cushions and you have a snug little getaway.
Metal garden furniture
For smaller patios areas and balconies, metal garden furniture is a great choice to decorate your outside space. Aluminium sets are strong and lightweight, which means they can be moved around easily. Steel framed furniture may be heavier, but you know isn't going to blow away in the wind. Give your balcony the Parisian feel with a black metal bistro set and a garden mirror.
Garden ideas
For outdoor spaces which are on the smaller side it can sometimes seem like a challenge to make effective use of the garden you've got. But there are plenty of options and if you are in need of a little inspiration then be sure to take a look at our small garden ideas to get you started. Consider an elegant two seater bistro set so you're still able to enjoy the delights of al fresco dining, with a compact seating solution that won't dominate your garden space. Or a hammock for that relaxed look and feel.
Another thing that's well worth considering is a stylish garden storage box that's the perfect home for tools and garden knick knacks you don't want left out on display. This will help you to achieve a more open and clutter-free space - all without taking up as much space as a garden shed. Our storage boxes are made from tough polypropylene with a chic wood effect; opt for sage green or grey for stunningly modern style.
After a stand out feature for your outdoor space and a great talking point at garden parties? You're in exactly the right place. For a statement structure that's truly stunning, consider a wooden pergola. One of these will look striking standing on its own as a walkway to create a sense of structure in your garden, or you could place yours above some decking and a corner sofa set to create the ultimate garden seating set up. Either way, pergolas are perfect for training vines to grow up their supports and across the top - consider beautifully scented plants such as roses or honeysuckle. Our quality designs come with a 15-year anti-rot guarantee too, so you're sure to get many years of enjoyment from your pergola. Or if space is not an issue then a log cabin can give you some extra space and looks great too. Use it for your home office, or somewhere to party when you need shade from a shower or the sun. Or if you are looking for some shade then awnings provide this and style all in one.
Why not consider a garden water feature as well? There's nothing more soothing than the sound of gently trickling water to help transform your garden into a haven of peace and tranquillity, and a water feature will look beautiful wherever you put it - be that standing alone, near a pond, nestled in a flower bed or placed as part of your rockery. How about our four tier cascading designs? Terracotta clay is a classic choice that's eternally stylish - and what's great about these is that they're solar powered as well, converting energy from sunlight. This makes for an economical garden addition that'll help you save on your bills - with no need for complicated wiring - and for cloudy days or evenings, the built-in battery pack stores five hours of power too.