Grilling and toasting
Save up to 88% energy with the George Foreman Fit Grills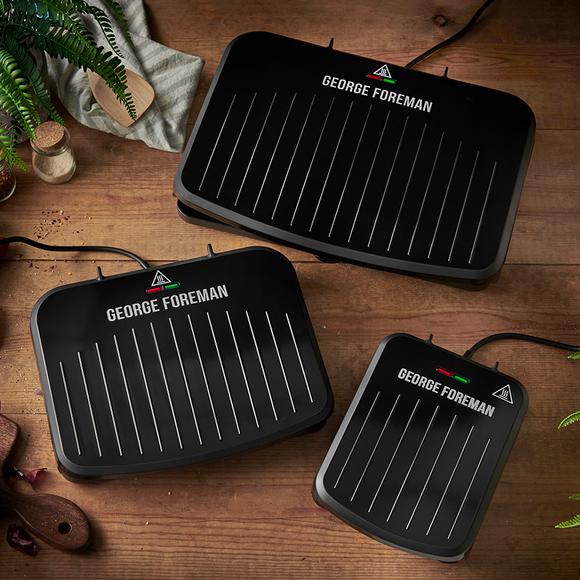 What's Grilling right now ...
*T&Cs and exclusions apply. Provided by Domestic & General Insurance PLC
Browse our grilling and toasting appliances, ideal for whipping up quick and delicious meals. Whether you're after a solo snack or feeding a family, our selection offers different sizes and a variety of smart functionalities that'll help you make food in no time. Our range offers versatile 3-in-1 grills with added functions like air frying and efficient toasters boasting deep-fill options.
Check out our sandwich toasters. From making crispy sandwiches to branching out to paninis, our selection includes different sizes and models from trusted brands like Cookworks, Russell Hobbs, Tower and more. With Breville sandwich toasters you can prepare quick breakfast and make filling sandwiches for office and school lunches. The adjustable slots and high-lift feature provide a user-friendly experience, with minimal clean up.
Our 2 slice toasters are all about simplicity and speed, especially during those busy mornings. Adjustable slots accommodate various bread types while the high-lift feature lets you retrieve your toast with ease. How about our Smeg toasters that combine vintage design with functionality?
Our panini presses are great for making toasties, sandwiches, quesadillas, hash browns, naans and even cinnamon rolls–the list goes on. With deep fill options for the more generous fillings and sizes that fit every counter space, these presses are all about making your snack times easy and enjoyable. When it comes to healthy cooking, our health grills are an ideal choice. They function not as grills but also as air fryers, allowing you to cook an array of tasty recipes. The non-stick, easy-to-clean plates and digital probes for temperature monitoring make these grills a fuss-free option for healthier meals. A Ninja grill is an ideal solution for those who value precision. These grills come with a digital probe for perfect cooking and feature non-stick plates that are a breeze to clean.