All Forty Winks products contain high quality fillings for sumptuous comfort, from pillows and duvets to beds and mattresses. With a range of unique design touches and premium finishes, you can create your own little spot of luxury.
Pillows
Find your perfect pillow
Enjoy cloud-like comfort night after night with our stylish Forty Winks pillow range. Beautifully finished with bespoke piping and innovative stitch technology, our pillows are machine washable and easy to care for.
Supremely Soft and Washable pillows
Designed for side sleepers, these medium pillows offer just the right amount of support to help you get a great night's sleep. Plump, bouncy and synthetically filled, they come in a supremely soft microfibre case.
Anti-allergy pillows
Nomite accredited, our soft and plump anti-allergy pillows are filled with specially treated synthetic fibres and finished with a fine stripe detail. With a seal of approval from the British Allergy Foundation, you can doze off in peace.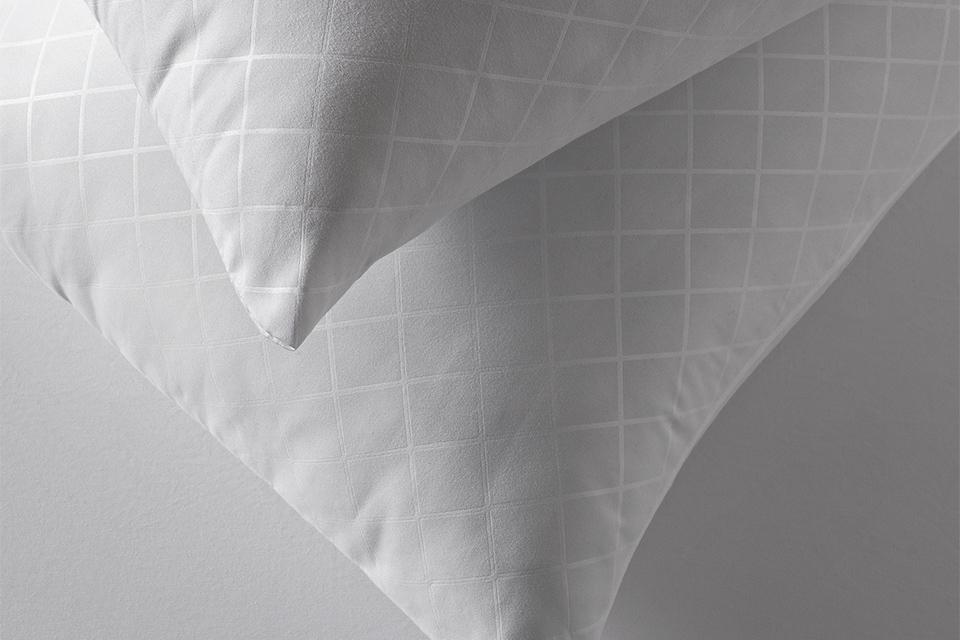 Bounce Back pillows
Designed to stay plump for longer, these pillows are packed with spiralised fibres that spring back into shape. The synthetic filling is tucked snugly into a supersoft microfibre case, finished with a delicately embossed diamond pattern.
Soft as Down pillows
These luxurious pillows contain synthetic fibres to recreate the soft and fluffy feeling of down. Encased in a super soft outer, they feature an embossed chevron design and self-fabric piped edge for a premium finish.
Duck feather & down pillows
Sumptuously soft and bouncy, these plump pillows contain a natural filling of 85% feather and 15% down, ethically sourced and RDS approved. With a silver piped edge and Nomite approved finish, even allergy sufferers can enjoy a blissful night's sleep.
Shop by firmness
Match your pillow to the way you like to sleep. Firmer pillows will suit those who like to sleep on their back, whilst medium pillows are ideal for side sleepers.
Duvets
Discover your ideal duvet
Snuggle down for the night with our irresistibly cosy Forty Winks duvet range. Available in a choice of synthetic or responsibly sourced natural fillings, say hello to your new nightly treat.
Supremely Soft and Washable duvets
These light, machine washable duvets contain a synthetic filling for warmth without weight. Delicately encased in a supremely soft microfibre, they are finished with a fine stripe detail, and sealed with smart stitch technology for an immaculate edge.
Anti-allergy duvets
With a 10.5 tog rating, our anti-allergy duvets are perfect for year-round use and accredited by the British Allergy Foundation. These machine washable duvets are synthetically filled with specially treated fibres for a great night's sleep, free from dust mites.
Soft as Down duvets
Filled with a breathable, non-allergenic fibre, recreate the luxurious feeling of soft and fluffy down with these machine washable, tumble dryer-friendly duvets. Embossed with neat chevrons, they're made with smart stitch technology for a seamless edge and stunning finish.
Shop by size
Shop by tog
The higher the tog, the warmer your duvet will be. A 10.5 tog is a suitable choice for all seasons. Opt for a low 4.5 tog in the summer months to help keep cool in bed, and a high 13.5 tog in winter to keep you toasty.
Divans & mattresses
Divans
All our divans have a great selection of storage options to suit your needs. They're complemented with beautiful high panelled, contemporary styled headboards, giving them a simple yet elegant presence. Combined with luxuriously soft velvet or woven fabric finishes, they ooze opulence and comfort.
Mattresses
High-quality natural fillings and materials are blended together to create our luxurious feeling mattresses. Exclusively hand-tailored in the UK, their premium finishes and enhanced quality are demonstrated in our varied selection of comfort types.
Loved by you
Wake up on the right side of the bed with these popular picks.
Why buy at Argos?