DesignaFriend
Design your new best friend for hours of fashionable fun.
Exclusive to Argos, each of these 18-inch collectable dolls has her own trendy look, silky hair for styling and a charm bracelet for you. Collect charms with every outfit you buy!
Cute accessory with every doll and outfit
Choose your DesignaFriend doll
Choose a stylish new outfit
Choose one of the selected free accessories.
Ready to play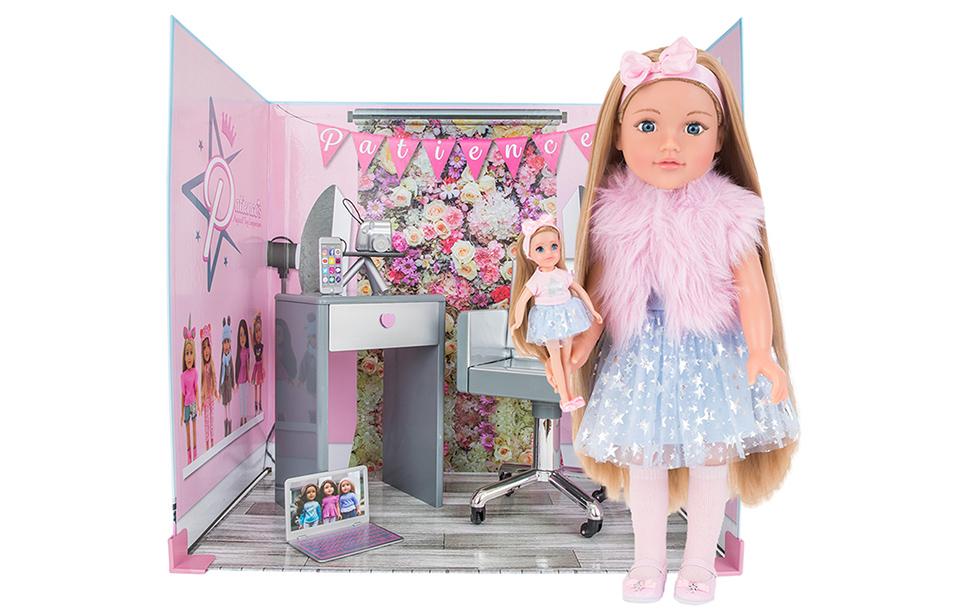 DesignaFriend vlogger set
Step into Patience's Magical Toy Emporium world and become a famous vlogger! Our resident vlogger, Patience is dressed to impress in a fluffy faux fur jacket and ready to share her tips with all her followers!
Why you'll love her
Perfectly huggable
Give your doll a big squeeze! She's 18 inches tall and has a super soft body for lots of cuddles.
Rosy cheeks
With sparkly eyes and life-like lashes, your pretty new DesignaFriend is sure to turn heads.
Brushable hair
Bubble braids, or a classic plait? However you want to style her silky smooth hair, your imagination is the limit!
Meet them all
Fashion dolls
Dress her, style her and be her friend! Which doll will you take home?
Outfits & accessories
Dress to impress with stylish DesignaFriend clothes and accessories for any occasion.
Furniture & playsets
All dressed up and nowhere to go? From the stylish convertible cab to gymnastics class, explore popular playsets to start your adventure.
Take a look at the new girl gang
It's time to get to know the latest DesignaFriend dolls, all their outfits and accessories!
Discover more
Party invites & bunting
Want to create the best party? You'll need our DesignaFriend invites and add stylish decorations with our party bunting.
Design your own doll
Create your own outfits in our colouring fashion magazine. This is the perfect activity for a girls night!
Curly or straight?
Get the look you love. Have lots of fun with the perfect girls night, and make a statement in our colouring fashion magazine.
Outfits for every occasion
What is your DesignaFriend going to do today? We have outfits for all kinds of occasions - festivals, outdoor adventures, Friday night dinner and much more!
Why buy at Argos?