Chad Valley
Spark imaginations, fuel creativity and enchant playtime with our extensive range of toys.
Shop all Chad Valley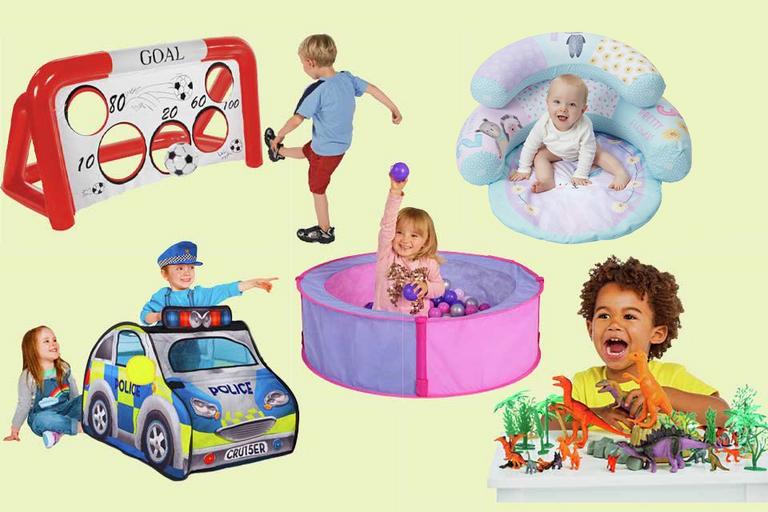 Baby, infant and pre-school
Baby and pre-school toys
Support essential learning and development with Chad Valley baby, infant and pre-school toys.
Baby walkers and nursery
Help your little ones find their feet, with baby walkers and nursery aids designed to grow their confidence.
Tots Town
Nestled deep in Chad Valley is Tots Town, a place where imagination comes to life.
Pretend playsets
Pretend play and role playsets
Save the day as a daring police officer, cook up a storm in a toy kitchen, or get business-minded in a play shop. Our inventive role playsets encourage little ones to develop real-life skills and get creative with their play.
Dolls
Babies to Love
Encourage nurturing roleplay with our range of Babies to Love dolls and accessories. Little ones can feed, dress, and care for lifelike baby dolls as they learn through play.
Tiny Treasures
Take home a Tiny Treasures baby doll. With an authentic smell and super soft baby-like hair, they feel just like a real newborn.
DesignaFriend
Exclusive to Argos, each of these 18-inch collectable dolls has her own trendy look, silky hair for styling and a charm bracelet for children to wear.
Indoor toys and games
From exciting action toys to games for all the family, the Chad Valley range has something to keep kids of all ages entertained. Develop their motor skills, social development, and brainpower – and most importantly, have lots of fun.
Action and adventure toys
Adventure time! Get your kids' adrenaline flowing and their minds engaged with thrilling, action-packed play.
Games
Perfect for having fun with friends, siblings and parents. Find your family's new favourite multi-player games to delight and excite.
Creative time
From knitting and crafting to painting and art sets, you'll find everything here for children to create meaningful gifts, or fabulous works of art.
Outdoor toys and games
Outdoor toys
Get competitive with a range of sports, jump in the driving seat with our speedy kids' vehicles, or play pretend in wendy houses and play tents. With everything from paddling pools to sledges, there's lots here to get kids out and about whatever the weather.
New in
Ready for playtime? Discover the latest Chad Valley toys.
Tried, tested and user recommended
Tiny Treasures unboxed
What do kids really think of Tiny Treasures baby dolls? Get a sneak peek of what's inside and see for yourself!
Why buy at Argos?