Black + Decker at Argos
We offer a wide selection of products to suit a huge range of DIY tasks. Black + Decker, you've got this.
Shop all Black + Decker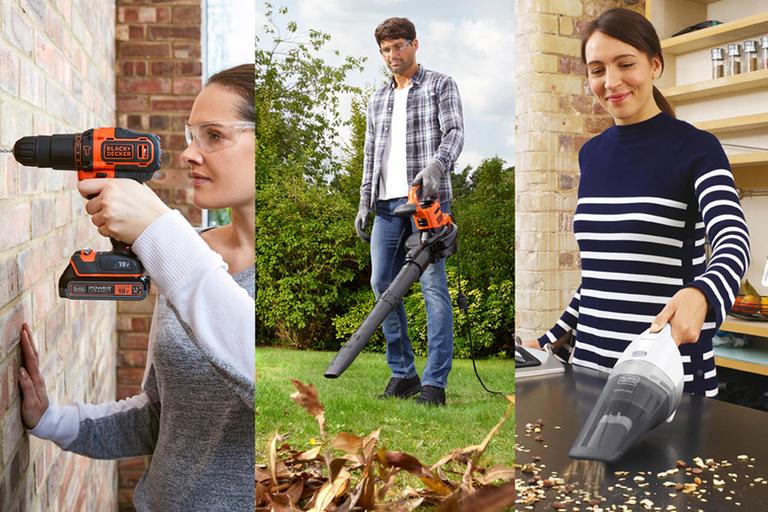 Black + Decker Power Tools
POWERCONNECT™ from Black + Decker
Whether it's efficient power tools to complete DIY tasks, outdoor products to tidy the garden and lawn, or versatile cleaning devices to spruce up the home – you've got this with Black + Decker.
Black + Decker Drilling and Screwdriving
Choose the right drill or screwdriver for the correct job.
Tackle your flatpack furniture and general household assembly with an electric screwdriver.
Drill into wood, metal and plastic with a drill driver.
Hang fixings into brickwork and masonry with a combi drill.
Remove tiles or create channels with an SDS Plus drill which packs more power.
Black + Decker Sanding
We have the right sander to get the job done.
Sand intricate hard to reach small areas such as furniture with a mouse detail sander.
Achieve a high quality finish on flat or curved surfaces with an orbital sander.
Prep areas before painting and staining such as door frames with a sheet sander.
Black + Decker Grinding
We have a range of cutting tools to suit various cutting applications from small to large jobs.
Cut metal pipes, stone slabs and grind metal surfaces for rust removal using an angle grinder.
If you need to complete smaller intricate D.I.Y jobs, arts and crafts, a rotary tool is perfect.
Black + Decker Sawing
Take on any cutting task, whether its straight or curved cutting in wood, metal or plastic.
Cut straight lines in large sheet materials like plywood, MDF and chipboard with a circular saw.
Achieve intricate curved or straight cuts with a jigsaw.
For fast and heavy duty cutting, such as door and window frames, use a recip saw.
Black + Decker Cordless
Cordless freedom allows you to work anywhere around the home with convenience from wires and extension cables allowing you to freely tackle hard to reach jobs.
Black + Decker Corded
Choose corded if your working with dense materials to get tough tasks completed quickly, ideal for heavy duty jobs where constant supply of power is required.
Black + Decker Lawn and Garden
Black + Decker Lawn and Garden
With Black + Decker, sorting the garden out is quick and easy so you have more time to enjoy it. From mowers and leaf blowers to hedge trimmers and chainsaws, you'll have everything you need to keep it looking neat and tidy.
Black + Decker Home Cleaning
Black + Decker Home Cleaning
Black + Decker home products are designed to make cleaning tasks quicker and easier, from cordless vacuums that get into the tightest spots that make light work of messy surfaces, you'll have all the performance you need to get the job done in no time. Power through those everyday chores. So you can enjoy more of life.
Why Buy at Argos?