BRAND_FULFILMENT_BAR
BUY ONLINE AND COLLECT IN-STORE FOR FREE
Look out for products badged Fast Track to get it today
- Collect in as little as 60 seconds
- 7 days to collect
- Dedicated Fast Track counter in-store
BUY ONLINE FOR SAME DAY DELIVERY
Look out for products badged Fast Track to get it today
- 7 days a week
- Buy before 6pm and we'll deliver by 10pm
- Choice of 4 delivery slots
View more
it's now even easier to get larger items delivered
From next day, 7 days a week
| Larger items | Next Day Delivery | Standard Delivery |
| --- | --- | --- |
| 7am - 6pm | £14.95 | £6.95 |
| Choice of 4 delivery slots | £19.99 | £8.95 |
| Large Kitchen Appliances | Next Day Delivery | Standard Delivery |
| --- | --- | --- |
| 7am - 6pm | £8.95 | Free |
| Choice of 4 delivery slots | £19.99 | £8.95 |
View more
Playmats & gyms
(108 products)
Related Products

A deluxe giant size, thickly padded play mat ...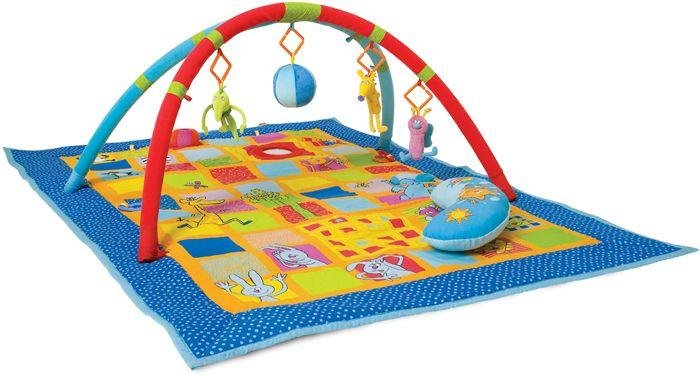 Description:
A deluxe giant size, thickly padded play mat and gym that can easily accomdate twins. With four activity toys including a ball that plays a variety of music and a soft and colourful tummy time pillow. Beautifully illustrated, the mat features lots of textures, teethers, a baby-safe mirror, plastic rings, ...
Make play time even more exciting and educational with our wide range of baby playmats and gyms. Choose from interactive ones with sounds, textures and built in toys to attractive ones with colours and styles to fit into any home and lifestyle.
After your little one is done having tummy time on their baby gym and activity mat, it can also double as a comfy place for an afternoon nap to help them wind down. Additionally, their playmat time can be a part of the bed time routine, followed by a warm soak incorporating nightlights and gentle play with some funbath toys.
When bedtime finally comes and they're the type that want a little play and snuggle before they go to sleep, choose from our lovely range of soft toys to keep them entertained. When their eyes start to close, make sure for the comfiest nights sleep in a cots from us. Your baby deserves the best, so make sure they have fun and stay safe, with amazing products from brands such as Mamas & Papas.